Finances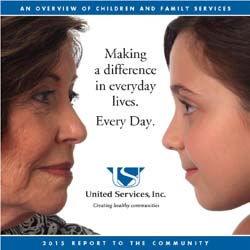 Our Goal: Transparency & Efficiency
At United Services, we are committed to doing the most that we can for the clients and communities we serve with the resources we have.  And that means we maintain an unwavering commitment to financial transparency and organizational efficiency.  Our funders and donors can trust that their resources are being used as intended, and to their fullest potential.
Click here to read United Services 2015 Annual Report.
Our Budget
United Services has an annual operating budget of just over $16 million. Our income comes from a variety of sources: state grants and contracts 66%, fees, 19%, federal grants 5%, and contributions 2% and other income 8%. 87% of the budget goes to direct services for clients.
Our Commitment to Our Clients
As a nonprofit provider of mental and behavioral health and social services, we know that our services are crucial to those who come to us for help.  We are committed to providing mental health and other critical services to those who need it, regardless of ability to pay.  As a result, each year United Services provides approximately $2.3 million in uncompensated or undercompensated care.
Our Commitment to Our Funders & Donors
United Services works to ensure that our client services, programs and administration are the most cost-effective they can be.  We maintain a high efficiency by employing the highest caliber of professionals in the field. Compensation for all United Services professionals are overseen by the Agency's governing board.
United Services also complies with all federal and state regulations and meets the Connecticut Cost Standards as required by the State Office of Policy and Management.  An audit of United Services is prepared annually by J.H. Cohn, LLP.

United Services offers a Sliding Fee Scale Program for patients of applicable programs who do not have insurance or whose income is insufficient to pay outstanding balances. The amount of the sliding fee discount is based on your family size, income, and determined using the Federal Poverty Level established income guidelines. Patient must cooperate in completing an application for sliding fee program and providing income verification, (last 2 paystubs, copy of entitlement checks, W2, etc.).
United Services will assist you in applying for third party assistance such as: Medicaid and Husky A, B, C and D. Please ask our Front Office Receptionist for information.
If you do not qualify for a discount, we will offer you the option to establish payment arrangements to pay any outstanding balance, in a reasonable period of time, based on your financial circumstances. Patients will not be turned away for their inability to pay. We will make every effort to work with you. For payment arrangements or any questions/concerns regarding your bill contact the Client Accounts Department at (860) 774-2020.