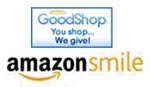 Online Shopping Websites Allows Users to Save Money While Benefitting Local Community Programs at No Extra Cost
With the holiday shopping season upon us, United Services is calling on residents of the Quiet Corner to combine their online shopping with charitable giving through the websites GoodShop.com and AmazonSmile, both of which donate a portion of the purchase price to United Services at no cost to the shopper.
Visit United Services pages by clicking the links below:
GoodShop offers users discounts to hundreds of popular online retailers, with each retailer donating a percentage of the purchase price back to United Services at no cost to the purchaser. AmazonSmile offers the same abundance of online items the traditional site does, but with a donation to United Services with each purchase.
By using GoodShop and AmazonSmile through United Services, consumers can help their neighbors in need right here in Northeast Connecticut. Proceeds from GoodShop and AmazonSmile sales through United Services will help to support critical programs in the Quiet Corner, including the only Domestic Violence shelters and services in Windham County, the Center for Autism, Grandparents Raising Grandchildren support groups and other programs that are vital to the community.
GoodShop offers access to hundreds of well-known retailers including Amazon, Toys R Us, Apple, Gap, Target, Macy's, Best Buy, Orbitz, Staples and others. The shopping experience and the prices are exactly the same as going to the online retailer directly, but by going through GoodShop, up to 37 percent of the purchase price will be donated back to United Services. And, GoodShop will provide links to valuable coupons and discounts for each retailer.
AmazonSmile donates 0.5 percent of the purchase price to United Services.
"While shopping locally at area merchants is the best way to support our community, residents can still make a local impact with the shopping they are already doing online," said John Goodman, United Services Director of Development. "Through GoodShop and AmazonSmile, residents can provide vital support to our local programs like the Domestic Violence shelters."
The United Services Domestic Violence Program provides support, advocacy, referral and counseling for victims of domestic violence and their children. Emergency shelter and referrals are also available for families who need a safe place in a crisis. All calls are confidential. Support groups are also available to the community and shelter residents. Certified, trained domestic violence advocates provide all services. Hotlines for the Domestic Violence Program are 860-456-9476 in the Willimantic area and 860-774-8648 in the Danielson area.
The GoodShop and AmazonSmile links at www.UnitedServicesCT.org are active all year round, not just during the holidays.  A link for "GoodSearch," which raises approximately one cent each time you use it to search the Internet, is also available on the United Services homepage.
United Services will also participate in the social media campaign for Giving Tuesday (#GivingTuesday) and encourages local residents to join the national movement around the holidays dedicated to giving. Giving Tuesday is a national event that promotes giving back to the community. This year, Giving Tuesday will be held on Tuesday, November 28.
For more information about United Services, its Domestic Violence Program, Center for Autism, Grandparents Raising Grandchildren support groups and other programs, visit www.UnitedServicesCT.org or call 860-774-2020.