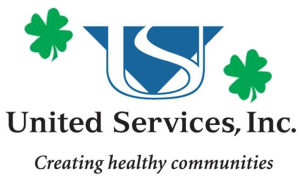 Boosted by event sponsorships and attendance of more than 120 people, United Services 16th Annual Irish Night raised $10,000 for Children and Family Programs on Friday, March 17 at The Mansion at Bald Hill in Woodstock.
The night included a gourmet corned beef and cabbage dinner, live music with Irish sing-alongs from Dragonfly Diversion, and a silent auction featuring many exciting items, including sports, music and movie memorabilia and a 6 day African Safari for two!
Event sponsors Mutual of America, Genoa, A QoL Healthcare Company, and Jewett City Savings Bank helped to make the event a success. United Services recognized Mutual of America at the event for more than 10 years of supporting Irish Night.
"United Services is grateful for the tremendous community support we receive each year for Irish Night," said United Services President/CEO Diane L. Manning. "As we continue to see an increasing demand for these critical children and family programs, the funds raised by this annual event help us to meet the community need."
All proceeds benefitted United Services Children and Family Programs: These include:
One of the busiest Child Guidance Clinics in the state, providing trauma-informed and trauma-focused mental health services for children and adolescents.
Family Programs, including parent education and support groups such as Grandparents Raising Grandchildren
The region's only Domestic Violence Program, providing 24/7/365 emergency crisis, shelter and supportive services to women and children.
Wraparound clinical care and support services for Autism Spectrum Disorders at the Center for Autism.
Youth Service Bureau and Juvenile Review Board, coordinating youth service programs and juvenile justice intervention.