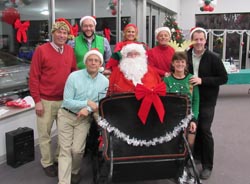 Putnam Ford staff and President Rick Place helped to spread holiday cheer to local families Thursday, December 15 at their 19th annual "Christmas is for Kids" party.
The party, hosted at the dealership, was attended by more than 80 children and adults from United Services' human service programs, including the Domestic Violence Program, Center for Autism, and other family-oriented programs, as well as participants in Northeast Opportunities for Wellness youth programs.
"Putnam Ford and its employees are really proud and excited to put on a little Christmas show to the kids of the programs of United Services," said Putnam Ford President Rick Place. "This is very self-gratifying to help those less fortunate than ourselves especially at Christmas time. We look forward to this event every year and this being our 19th consecutive year, we are very grateful for the opportunity."
The evening's festivities included a holiday scavenger hunt, caroling, snacks, and of course a grand appearance by Santa and Mrs. Claus, who provided a gift for each child.
"Once again, Rick Place and everyone at Putnam Ford has done a wonderful job making spirits bright for local families," said John Goodman, director of development and communications at United Services. "Although Northeast Connecticut still has many families struggling to makes ends meet throughout the year, thanks to Putnam Ford, dozens of local children and families have a chance to create lasting memories of holiday cheer."
"NOW is very thankful to Putnam Ford for bringing this event to the community," commented NOW Executive Director Sarah Mortensen. "The 'Christmas is for Kids' party is a wonderful opportunity for the children we serve to experience the best of this season of giving and we were excited to participate this year."