United Services Windham Regional Health and Wellness Center
United Services is always seeking new ways to provide the highest caliber of services in the most cost-effective manner, even amid unprecedented growth in demand for behavioral health services.
Through the consolidation of two outdated and under-sized facilities into an expanded state-of-the-art health center designed with the future of integrated behavioral and primary health care in mind, our new Windham Regional Health and Wellness Center will allow United Services to meet the 21st Century needs of our region, as we move into an era where Mental Wellness is increasingly recognized as a vital foundation to help residents navigate the many challenges unique to our region.
Individuals, parents and their children can benefit from the many co-located health, social and family service programs offered by United Services, with children, family and adult services now ALL available in one location on a public transit line. From the United Services Domestic Violence Program to the supports of the United Services Center for Autism, Windham region residents can benefit from improved access to programs that make a real difference to real people every day.
Just as with all of our services, quality and efficiency will be integrated in our "green" building designs, utilizing the new location's natural geothermal and solar resources while retaining the rustic and peaceful nature of a location fitting to allowing United Services to continue our mission of "Creating healthy communities" in the 21st century.
For more information about the energy conservation building design, view our Energy Presentation.
With Mental Health now accepted as the #1 health need of Eastern Connecticut, every dollar of contributed state, federal, and private support towards this non-profit initiative is another dollar that can be re-invested into enhanced and expanded programs so vital to our community.
For more information about the United Services Windham Regional Health and Wellness Center, as well as continued opportunities for enhanced public and private support, please contact John J. Goodman, Director of Development, at jgoodman@usmhs.org or at 860-774-2020.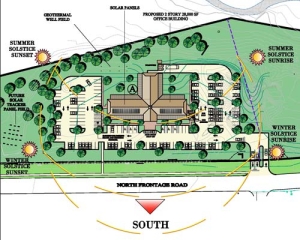 Latest News:
United Services Secures Federal Loan for New Windham Region Behavioral Health Center