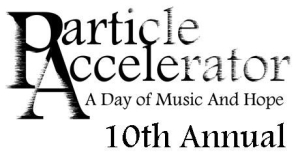 The 10th Annual Particle Accelerator: A Day of Music and Hope will be held Saturday, June 11, 2016 in Rotary Park in downtown Putnam. The free, all day music festival features 20 bands playing music of all genres and for all ages. The concert begins at noon and will continue until 11 p.m.
Local businesses are invited to participate in this community event, which draws crowds of hundreds. For more information, please check out the 2016 Particle Packet.
The annual benefit concert has two main goals. The first is to raise funds and awareness to support United Services, Inc., one of Connecticut's most comprehensive private, non-profit behavioral health centers, providing mental and behavioral health education, prevention, treatment and social services to the children, adults and families of northeastern Connecticut since 1964.
United Services is available 24/7/365 at 860-774-2020 for people experiencing a mental health crisis.
The second goal is to provide information and support for depression and suicide prevention, while promoting music and civic engagement as a healthy alternative to drug and alcohol abuse among young adults.
The festival is held in memory of local musician Jack Young, Jr. and organized by local residents, business owners, musicians and artists. In addition to the concert, the family-friendly festival will also feature art displays, children's activities and booths from local nonprofit organizations providing information on various local behavioral health and human services.
Funds raised will sponsor Mental Health First Aid Training, a public education initiative that helps the public identify people in the midst of a mental health crisis more readily and get them the resources and professional help they need before they harm themselves or others.
In nine years, Particle Accelerator has raised more than $38,000 for local mental health services. Last year's festival raised more than $8,000, a figure organizers hope to top this year.