Center for Autism: Family Support Groups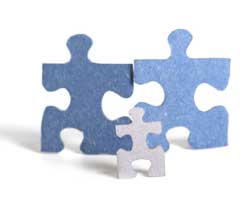 Autism Spectrum Disorders (ASD) are conditions that affect not only the individual on the spectrum, but their family members as well. For the emotional health of the family as a whole, as well as for the betterment of treatment for the child or adult with ASD, we supplement our clinical therapies with support services for family members. Because every piece counts… 
Parent Support Groups
Our Parent Support Groups provide peer support and guidance to parents facing the unique challenges of caring for a child with an Autism Spectrum Disorder. There are two Parent Support Group meetings each week, which are offered at the same time as our supportive programming for children with ASD, so that parents can participate at the same time that their children receive services.
At each one-hour session a clinician leads a group discussion addressing the various challenges of parenting a child with ASD.  The clinician may offer advice and guidance on how to respond to specific behavioral, school, health, or other challenges, while the parents may simultaneously offer advice and support to each other.  Guest speakers are also brought in on occasion to speak to specific areas of concern.  Speakers have included an attorney who spoke about setting up a special needs trust, and a nutrition consultant, for example.
Participation is free to parents of children who are clients at the Center, and free child care for siblings of the autistic child is provided during this time as well, so that both the autistic child and the parent can participate in their respective sessions.
SibSupport Groups
Caring for and living with a child with autism places extraordinary demands on both parents and siblings. The unique challenges of growing up with a sibling who is on the spectrum can be both stressful and strengthening. Without the proper supports, siblings can experience anxiety, anger, jealousy, embarrassment, loss, and loneliness. They may feel obligated to take on the role of caretaker, while they themselves may receive less parental attention as a result of the high level of care required by their affected sibling.
The SibSupport Group is designed to help alleviate these stresses and replace them with strengths by providing siblings with a chance to talk with others who are in their situation; education about autism to help them understand and react appropriately to their affected sibling's behaviors; and the tools they need to meet the unique emotional and social challenges they face. All in a fun and understanding peer-centered atmosphere and at a time and place that is "just for them."
The SibSupport Groups are divided by age, with separate age-appropriate meetings for children ages 5 – 8 and children ages 9 – 13. There may also be a group for teens, ages 13 – 18, as interest and demand dictate.  Each group meets once per month. At each meeting, Center staff lead the children in both structured discussions and recreational activities, such as craft projects, free time to socialize and have personal peer-to-peer conversations, access to the Center's Autism Library, and fun activities meant solely for their enjoyment, apart from discussion of their sibling and autism.
Participation in the SibSupport Groups is free for siblings of children who are clients at the Center.
Grandparent Support Groups
As they do in many families, grandparents can play an integral role in helping to care for their grandchildren, providing child care while parents are at work or to simply give parents some "time off" to de-stress, an especially important need for parents of autistic children. As a secondary caregiver as well as an important figure in a child's life, it is important that grandparents have a good understanding of the challenges and needs of an autistic child, and can follow and reinforce the behavioral treatment methods used in the clinical setting and by the child's parents at home.
The Grandparent Support Group helps grandparents to understand their grandchild's behavior and to acquire the knowledge and skills necessary to respond and care for the child appropriately. At each session a clinician leads the grandparents in an informal group discussion. These discussions offer a unique generational perspective while providing important insights, understanding, knowledge, peer support and informal clinical advice on how best to interact with and support their grandchild with ASD, as well as how they can support their own children as they face the complex challenges of parenting an autistic child.
The group meets once per month and is free to grandparents of children who are clients at the Center.