Center for Autism: Supportive Programming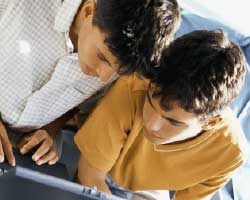 Our belief is that individuals with Autism Spectrum Disorders (ASD) will make the most progress and achieve a higher level of functioning when treatment strategies are consistently implemented in all areas of their life including home, school, work and community. Our supportive programming provides children and adults with ASD an opportunity to augment their clinical treatment and build upon their skills. Participation in these supportive programs is free to clinical clients of the Center for Autism.
Social Skills Training
Social Skills Training is designed to strengthen communication skills and social interaction abilities. Skill-building activities include greetings, eye contact, turn-taking, initiating and maintaining conversations and developing friendships. There are separate Social Skills Training sessions for children and adults.
Social Thinking Groups
Social Thinking groups teach individuals why they react and respond the way they do, how their behaviors affect those around them and how behaviors affect their own emotions and relationships with others across various social contexts. Social Thinking Groups are available for both children and adults.
Adult Social / Recreational Groups
Our social and recreational group for adults with ASD provides opportunities to participate in more informal group settings and enhance communication and interpersonal skills. Program activities occur at the Center for Autism as well as in the community. Examples include game and movie nights, dinners at local restaurants, attending theater productions, sporting events and other recreational opportunities.
Vocational Training
Job coaching and vocational training services are available to adolescents and adults with ASD. Job coaches utilize Applied Behavior Analysis strategies and behavioral supports to teach self-monitoring techniques that allow the individual to enhance independent functioning in the workplace.
Tutoring
Children with an ASD may struggle academically in school due to the high demand and work load. Our program is designed to assess and assist students in areas of weakness in order for them to become more successful in the school  setting. Tutors will monitor your child's   progress through the use of data collection and periodic assessments.