Reunification and Therapeutic Family Time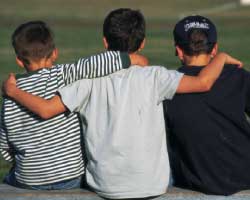 Reunification & Therapeutic Family Time (RTFT) is family centered program to work with families and the State of Connecticut to assess and assist families seeking reunification with their child(ren) who are in out-of-home care. These children may be victims of neglect and/or physical or sexual abuse and may have been exposed to substance abuse, domestic violence, mental health issues and/or other disabling conditions of the parent. Parents referred may have limited parenting, coping, cognitive abilities and life skills.
Through RTFT United Services works with the Department of Children and Families to plan and implement the safe return of children to their families of origin and utilizes an approach known as Therapeutic Family Time to help parents and families maintain or re-establish relationships that are healthy for the child. The model of family support and reunification includes parent skills training, visit coaching, and the engagement of family and their network of supports. The programs seeks to preserve and restore the parent/ child attachment, and reduces the child's sense of abandonment and loss, with a permanency goal of reunification in the best interest of the children or child.
Participation & Referrals
Participation is limited to families referred by the CT Department of Children and Families (DCF). Culturally competent services are available to Latino families.
Program Manager
Ed Koistinen
Funding for this program is provided by the CT Department of Children and Families (DCF).