Parent Education Program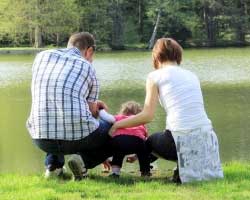 The Parent Education Program provides classes to court ordered individuals involved in divorce or separation family relation court proceedings. Individuals are required to attend two classes (3 hours each for a total of 6 hours) to receive credit for attending and for their court to be notified that they completed the course.
At each class, Group Facilitators will present material that addresses issues and concerns parents may have regarding the impact of divorce or separation on the family. Classes are available in both English and Spanish.  There is no child care provided.
Topics and Issues Covered:
Children adjusting to parental separation
Cooperative parenting
Stress reduction in children
The impact on children and the changes within the family
Information on the developmental stages of children
Dispute and conflict management
Guidelines for custody and visitation
Family violence issues
Participation & Registration
Parents involved in family court proceedings are ordered to participate in the Parent Education Program. Participation requires registration and a program fee. If the fee presents a financial hardship, individuals may apply to the court for a fee waiver.  (The waiver must be obtained from the court prior to attending the class.)
All participants are advised to register before attending a class.  (You may register on the night of the class but you must arrive 15 minutes early and remember to bring your court paperwork, fees and / or fee waiver documentation.) After you register you will receive a letter in the mail with additional information, including the dates that you are registered to attend the classes.
To register:
Call our Intake Department at 860-774-2020.
Program Location
Classes are conducted at our Wauregan office:
303 Putnam Road, Wauregan
Program Manager
Ed Koistinen
Funding for this program is provided by the CT Judicial Branch, Court Support Services Division.