Positive Parenting Program (Triple P)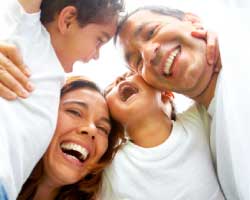 Children have the right to grow and thrive in a safe and nurturing environment. Through the Positive Parenting Program, or "Triple-P", we seek to assist families, through education, support and guidance, to provide a safe, nurturing and loving environment for their children.
There are two programs – Standard Level 4, for parents and caretakers of children ages 0 to 12,  and Standard Teen Level 4, for parents and caretakers of teens ages 13 – 17.  Services are available in English and Spanish.
 How Does the Program Work?
For both age groups, Triple P uses in-home, evidenced-based methods to help parents become independent, resourceful problem solvers and to create positive and safe home learning environment that promotes their children's emotional, behavioral, and cognitive strengths. Families receive a thorough assessment of parent-child interaction and parents are taught a parenting skills curriculum that can be used to target a broad range of behaviors.  The parent/caregiver chooses the target behavior(s) to be addressed. The teen program actively engages the adolescent in learning coping skills and problem solving skills while also improving the parent/caretaker-teen relationship. Services are provided by trained and accredited Parent Educators. Short-term case management is provided, but is not the focus of the program. Participants will learn four key parenting strategies, including how to:
Create a safe and interesting environment for children
Create a positive learning environment
Use assertive (rather than coercive) discipline
Take care of yourself as a parent
Have realistic expectations
Participation & Referrals
Participation in the program is voluntary and services are free of charge to the family.  Home visits and the level of services provided are based on the individual needs and goals of the family.
The program primarily serves families that are referred by the Department of Children and Families (DCF) or by the Community Support for Families (CSFF) program.  However, community and self-referrals are also accepted and are are prioritized accordingly, with DCF and CSFF-referred families receiving first priority.
Families must live in United Services' 21-town program service area:  Ashford, Brooklyn, Canterbury, Eastford, Hampton, Killingly, Lebanon, Mansfield, Plainfield, Pomfret, Putnam, Scotland, Sterling, Thompson, Union, Willington, Windham and Woodstock.
To make an appointment or a referral:
Call:  860-564-6100 (Wauregan office)
Fax:  860-564-6110
 Program Manager
Deborah Moyer
Funding for this program is provided by the CT Department of Children and Families (DCF).