Mental Health – Supportive Services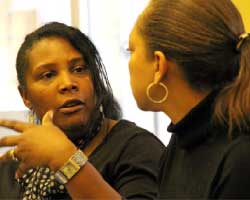 Recognizing that mental and behavioral health challenges affect every aspect of a person's life, we at United Services are dedicated to comprehensive continuity of care for our clients.
Our supportive services work to help individuals struggling with severe, persistent mental illnesses and / or other behavioral health issues to build the skills and confidence they need to live a successful independent life.
Support Services
Case Management services are available to help individuals who have severe and prolonged mental illness to live independently in the community. Our case managers recognize that family and friends are integral to a person's well being and, with a client's invitation, may become significant contributors to the service planning process.
Services include:
Assessment of needs
Service planning, coordination and monitoring
Linkages to community services
Advocacy and support
Obtaining and maintaining financial benefits
Assistance in finding and maintaining affordable housing
Intensive Case Management (ICM)
Intensive Case Management is also available to adults who have both a prolonged and severe mental illness and a co-occurring addictive disorder.  Because of their impairment, and not their lack of motivation, these clients may have difficulty utlizing or responding to conventional office-based behavioral health treatment.  The ICM team (composed of a manager with a limited caseload, two clinicians, a case manager, nurse and an APRN nurse who has advanced psychiatric training and experience) works closely with these clients to build trust and get them engaged in the rehabilitative process.
ICM services include:
Community-based services
Case management
Crisis assessment and intervention
Symptom assessment, management and therapy
Medication prescriptions, administration, monitoring and documentation
Substance abuse services
Vocational services
Activities of daily living in community-based settings
Social, interpersonal relationship and leisure-time skill training
Support services for the basic necessities of daily life
Education, support and consultation to families
Dayville
1007 North Main St.
860-774-2020
Willimantic
132 Mansfield Avenue
860-456-2261
Michael Johnson
Funding for this program is provided in part by the CT Department of Mental Health and Addiction Services (DMHAS).
Our Residential Support Services provide a wide array of services, from by-request-only on site support and case management services within affordable housing complexes, to fully staffed and supervised housing for adults with psychiatric disabilities.  The goal is to help residents access the services and develop the skills necessary for them to successfully live independently in the community.
Cedarwoods is a new affordable housing complex opened in 2012 by Common Ground, a non-profit organization that specializes in affordable housing with on-site social services.  United Services has partnered with Common Ground to provide those social services – such as case management, advocacy and referrals for services – to the residents of Cedarwoods.  The complex offers 60 one-bedroom apartments on a beautiful 19-acre site overlooking protected wetlands, creating affordable homes in an area of rural Connecticut where low-income housing is scarce. The apartments are available to disabled, formerly homeless and low-income individuals, with 10 percent of units set aside for veterans. Cedarwoods is also the first LEED-certified affordable housing development in eastern Connecticut, built with "green" technology.
United Services maintains an office in the complex and provides Case Management Services to tenants. Services are provided to any tenant who desires them.
Demetrice Hall, Manager
Brick Row is an apartment complex created under the Connecticut Supportive Housing Demonstration Program in conjunction with The Corporation for Supportive Housing. This national, nonprofit organization works to combat homelessness by facilitating permanent, service-supported, affordable housing. Supportive housing links tenants with support services that enable people with disabilities and those who have trouble maintaining housing to live independent, productive, dignified lives in their own homes. Residents hold leases, pay subsidized rent and are expected to comply with lease provisions.
United Services maintains an office in the complex and provides Case Management Services to tenants. Services are provided to any tenant who desires them.
Renee Grabert, MS, Manager
Passages is an apartment program with a wide range of supported living arrangements, from apartments in a building with staff to apartments scattered in the Willimantic area where the residents hold their own leases. The program is designed to help people who have had serious mental illness live more independently in the community.
Renee Grabert, MS, Manager
Northeast Apartments – Putnam
The Northeast Apartment program is designed to provide individualized support services to adults with psychiatric and emotional disabilities to enable them to live independently in the community. Single and shared apartments in scattered and clustered settings are available through the program. Counselors are available to help residents with daily living activities, which may include medication monitoring, and to develop and achieve personal goals. Residents are responsible for their rent and utilities.


Stepping Stones – Willimantic
Stepping Stones is a scattered site apartment program located in the Willimantic area that serves people who have both mental illness and substance abuse problems. People live in their own apartments in the community and utilize the drop-in center up to five days a week. Structures for daily living are developed between the Intensive Case Management team and the resident. Participation is long term.
Michael Johnson, Manager
United Services offers a range of programs to assist disabled adults obtain and maintain employment.
Supported Employment
Our Supported Employment Program assists and supports adults with psychiatric disabilities find meaningful competitive employment in the community.  People who participate in Individual Placement and Support (IPS) supported employment are almost three times more likely to gain employment than if they use a different type of employment program.
Our Supported Employment staff assists in resume development, job search, preparing for interviews, and follow along support to those who are working.  Interview preparation includes explaining gaps in employment, criminal histories, and education on disclosing of disability to future or current employers.  Staff also provides follow along supports once the individual is employed.  Our program works closely with BRS, Benefit Counselors, and the American Job center to assure participants receive all of the available services to be successful in employment.
The staff builds relationships with area businesses to identify job matches and continues to work with the employee and employer to problem solve when necessary in order to help people maintain their employment.
Access to Recovery IV (ATR) Recovery Oriented Vocational Services (ROVS)
This program assists eligible adults with resume building, interview preparation which includes explaining gaps in employment history and criminal history, and job search.
To determine eligibility requirements please call ABH ATR customer service line at        1(866) 580-3922.
Community Rehabilitation Provider (CRP)
United Services Inc. also is a CRP vendor through the Bureau of Rehabilitation Services to provide Work evaluations, Working Interviews, Interview Preparedness Program, Job Placement, and Job Coaching for eligible individuals. United Services is also a CRP for the Level Up Program at BRS that provides Career Exploration and Work Experiences for high school students ages 16-21.
Please contact Holly Fish or Lori Behling at (860) 564-6100  for referral information or any questions. 
Funding is provided by the CT Department of Mental Health and Addiction Services (DMHAS).