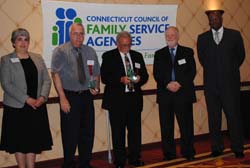 The Connecticut Council of Family Service Agencies (CCFSA) recently named United Services Board Member Romeo Blackmar and United Services Case Manager Stephen Benoit as recipients of the 2014 "Family Champion Award." Annually the Council recognizes one board member and one staff member from each of its member agencies as Family Champions for consistently going above and beyond the call of duty responding to the needs of families served by their agency, selecting 30 individuals who are the "best of the best" in the field of family services in Connecticut.
"United Services is proud to see the outstanding and consistent contributions of Stephen Benoit and Romeo Blackmar recognized by the Connecticut Council of Family Service Agencies," said Diane L. Manning, President / CEO of United Services, Inc. "The service and dedication they bring to their roles in the United Services' family is essential to our mission of 'creating healthy communities' and providing the highest quality of care in all of our services."
Stephen Benoit has provided community-based case management services for more than 16 years to adults who have experienced severe and prolonged mental illness, many of whom who also have a concurrent diagnosis of substance abuse. For most of his time at United Services, Stephen has been the go-to guy for some of the most difficult and challenging clients. He has assisted many clients to maintain and thrive in community settings. His down-to-earth, respectful, direct approach has been a contributing factor to him gaining the trust of his clients. He works in collaboration with other service providers including clinicians and emergency services staff. Over the years, Stephen has had a dramatic impact on the lives of many clients and their families. Those who experience severe and prolonged mental illness usually have a significant impact on other family members. Most often the family members, whether a mom or dad and many times a sibling, are challenged by how to support a loved one who experiences the ups and downs of their illness. USI often receives feedback from family members on how Stephen has changed all of their lives by his interventions and support. For many families, Stephen is indeed a Family Champion.
In addition to his work at United Services, Stephen epitomizes the term "community volunteerism," as he served as a volunteer fireman for 37 years, serving for a time as the lieutenant of the Quinebaug station. Stephen also served as the volunteer director of emergency management services in the town of Thompson for 12 years. Stephen has contributed countless hours as a volunteer helping keep families safe in his community. It cannot be overstated the countless lives which he has impacted over the years.
Romeo Blackmar is the Drug Free Communities Grant Coordinator for the Town of Putnam where he has provided drug prevention education and activities to local youth. He has more than 20 years of experience in the field of treatment for substance abuse, intervention, and prevention. His goal as a USI Board member is to foster cooperation between Putnam PRIDE, the Town of Putnam, and the United Services Board. During a two year time period when the PRIDE program had no federal funding, Romeo volunteered his time as chair to keep the program running. Romeo has created media campaigns promoting awareness of the Connecticut Social Host Law, underage drinking, and prescription drug misuse and has been involved in drug take back days that PRIDE has sponsored, collecting and destroying more than 1,000 pounds of unwanted prescription medications. He also serves on the Putnam Lions Club, Woodstock Fair Committee, First Fridays in Putnam, Eastern Board of Approved Umpires, the International Association of Approved Basketball Officials and is the Secretary of the Putnam Business Association. He even volunteers at the Town Crier in Putnam. Romeo served 12 years on the Woodstock Board of Education with terms as Vice Chairman and Chairman.
The Connecticut Council of Family Service Agencies, Inc. (CCFSA) is a statewide network of independent, non-profit, family service agencies that deliver services from more than 90 offices located throughout the state of Connecticut. Each year, CCFSA Member Agencies serve more than 100,000 families, making this one of the largest associations of non-governmental providers of services to Connecticut's children, youth, adults and their families. They provide professional services to the poor, the middle class and the affluent in 90 offices located throughout the state. For more information, visit www.ctfsa.org.
Photograph Caption: From left, United Services President and CEO Diane L. Manning, United Services Case Manager Stephen Benoit, United Services Board Member Romeo Blackmar, Chairman of CCFSA Bill Hass and Deputy Commissioner of the Connecticut Department of Social Services Raymond Singleton.