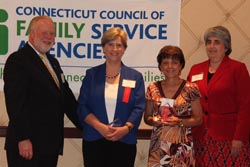 The Connecticut Council of Family Service Agencies (CCFSA) recently named United Services Positive Parenting Program Counselor Aimee Terwilliger and Board Member Terri Pearsall as recipients of the 2015 "Family Champion Award."
Annually the Council recognizes one staff member and one board member from each of its member agencies as Family Champions for consistently going above and beyond the call of duty responding to the needs of families served by their agency, selecting 30 individuals who are the "best of the best" in the field of family services in Connecticut.
"The service and dedication Aimee Terwilliger and Terri Pearsall bring to their roles in the United Services' family is essential to our mission of 'creating healthy communities' and providing the highest quality of care in all of our services," said Diane L. Manning, President /CEO of United Services, Inc. "United Services is proud to see their outstanding and consistent contributions recognized by the Connecticut Council of Family Service Agencies."
Aimee Terwilliger, of Killingly, has worked at United Services for more than 25 years in positions such as Triple P Counselor, Parent Aide, Family Enrichment Services Parent Educator and Vocational Counselor. In that time she has proven herself to be an innovative, creative and invaluable asset to the families she serves. One of Terwilliger's greatest strengths is her ability to assess a family's needs, develop a comprehensive treatment plan, and to work diligently with the family toward achieving clearly identified goals. Terwilliger has provided home-based services to many very difficult child protection cases and has always maintained a professional, non-judgmental, compassionate and caring attitude toward the family.
Terwilliger has served as the volunteer Program Coordinator of the Children's Programs at Trinity Episcopal Church in Brooklyn for more than 5 years. She developed "Godly Play," which is Trinity's Sunday morning program for children who are in preschool through 6th grade. It is a multi-age, multi-sensory program which deepens children's understanding of God and faith. Terwilliger also recruits and trains the volunteers for "Godly Play," and works with a team of other program volunteers to run a Teen Program and a Youth Group.
Terri Pearsall, of Putnam, is in her second term as a United Services Board member. Pearsall worked as a Guidance Secretary at Thompson Public Schools until her retirement a few years ago. She is a State trainer for National Alliance on Mental Illness (NAMI) Support group facilitators, is a NAMI Family to Family Teacher and certified Support Group Leader for 2 groups. Pearsall also co-captains a team for the NAMI Walk every year. She is the chairperson of the Empty Bowls Fundraising Dinner to benefit Daily Bread Food Pantry, where she also volunteers. She is the Director of Christian Education at the Congregational Church of Putnam where she also serves on the church council and teaches Sunday school. Pearsall is also on the Congregational Church of Putnam/Steve Bousquet Memorial Golf Tournament fundraising committee which provides scholarships to local schools.
The Connecticut Council of Family Service Agencies, Inc. (CCFSA) is a statewide network of independent, non-profit, family service agencies that deliver services from more than 90 offices located throughout the state of Connecticut. Each year, CCFSA Member Agencies serve more than 100,000 families, making this one of the largest associations of non-governmental providers of services to Connecticut's children, youth, adults and their families. They provide professional services to the poor, the middle class and the affluent in 90 offices located throughout the state.