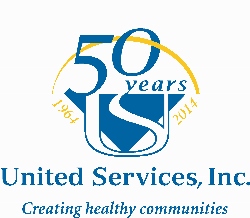 Local agency recognized as national leader in assisting health organizations transition to DSM-5
DAYVILLE – United Services staff will lead a national webinar on the transition to the fifth edition of the Diagnostic and Statistical Manual of Mental Disorders (DSM-5) later this month. The DSM is the standard classification of mental disorders used by mental health professionals in the United States and contains a listing of diagnostic criteria for every psychiatric disorder recognized by the U.S. healthcare system. Treatment recommendations, as well as payment by health care providers, are often determined by DSM classifications, making the transition to DSM-5 of significant importance for behavioral health providers across the nation. 
Josh Longiaru, United Services IT Director, and Susan Soares, the agency's Application Support Manager, will host the webinar, "The DSM 5 Journey: An Organization's Transition to DSM 5 and the Lessons Learned" for Behavioral Healthcare magazine on July 29.
The American Psychiatric Association released the DSM-5 in May 2013, concluding more than a decade of revisions to the diagnosis and classification of mental disorders. According to Behavioral Healthcare, "There are very mixed opinions from payers and states, as well as individual agencies, regarding when they will implement DSM-5, and also if they are going to implement it at all."
Longiaru and Soares will speak to a national online audience on the agency's proactive preparations for the transitions, lessons learned throughout the process and the impact on the organization.
"United Services is proud to be on the forefront of the transition to the DSM-5 and excited to share what we have learned so far with other healthcare providers," said Diane L. Manning, President and CEO and United Services.
Longiaru has worked at United Services since 2006 and is a certified healthcare technology specialist in practice workflow and information management redesign. He was recently named Emerging Professional of the Year by New England Health Information Management Systems Society for his efforts to bring a larger behavioral health component to the organization.
Soares is a Licensed Clinical Social Worker with more than 20 years of clinical experience. She is responsible for developing efficient workflows, writing technical and clinical procedures, and training clinical staff to enter the highest quality data into the electronic health record.
For more information on Behavioral Healthcare, visit www.behavioral.net.