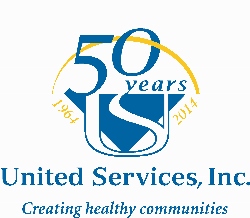 Annual Dinner will include keynote address from U.S. Department of Health and Human Services administrator
United Services will mark its 50th year of "Creating Healthy Communities" through social and behavioral health programs with an annual dinner November 20 at Wright's Mill Farm in Canterbury.
The annual celebration will feature a keynote address from A. Kathryn Power, Regional Administrator, Region One for the Substance Abuse and Mental Health Services Administration (SAMHSA), an operating division of the U. S. Department of Health and Human Services (DHHS).
Power works at the regional level to fulfill the agency's mission of reducing the impact of mental illness and substance abuse on America's communities. She provides authoritative advice and assistance on behavioral health policies and innovations for use in the delivery and financing of prevention, treatment and recovery services, develops regional perspectives on SAMHSA initiatives, and is a visible advocate for individuals with mental illnesses and substance use disorders within the federal government and across the region.
Power previously served for over 8 years as the Director, Center for Mental Health Services (CMHS), at SAMHSA. Director Power provided national leadership in mental health promotion, development and dissemination of effective treatments, services and supports, and prevention efforts in reducing mental illnesses through facilitating the transformation of our nation's behavioral health care system. Power's earlier experience included more than 10 years as the Director of the Rhode Island Department of Mental Health, Retardation and Hospitals, a Cabinet position reporting to the Governor, as well as teaching at both elementary and secondary levels, counseling, leadership and advocacy in rape crisis and domestic violence agencies, and computer systems analysis for the Department of Defense.
"We are honored to have Kathryn speak at our annual dinner and eager to hear her insight on the importance of community mental health services and substance abuse and behavioral health initiatives at the federal level," said Diane L. Manning, President/CEO of United Services. "United Services has been committed to providing comprehensive behavioral health and family support services in northeastern Connecticut for 50 years. We appreciate this opportunity for a broad perspective as we look forward to the next 50 years."
United Services, Inc. was founded in 1964. As de-institutionalization was introduced into Connecticut in the late 1970's and 1980's, United Services was among the first in the state to implement a range of community-based support services for mental health clients.
Today, United Services is the most comprehensive private, non-profit center in Connecticut providing psychosocial, mental health, chemical abuse, education and prevention services to the community, and employee assistance program services for business and industry. United Services employs a staff of more than 250 professionals and the agency's primary service area is the 21 towns in northeastern Connecticut, with client services are available in 12 locations, including four main offices located in Columbia, Dayville, Wauregan and Windham.
For more information on the annual dinner, please contact Lydia Gullifer at 860-774-2020.