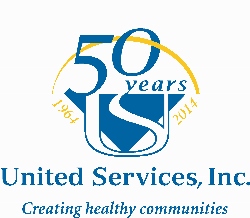 United Services will be one of 48 mental health programs nationwide to participate in an innovative health pilot program next year.
United Services, northeastern Connecticut's behavioral health center, has been accepted to the In SHAPE Implementation Project, a new program by The National Council for Behavioral Health and Dartmouth College.
According to the National Council, people with Serious Mental Illness (SMI) in publicly funded mental health organizations have a reduced life-expectancy of 25-30 years compared to the general population. Obesity rates are twice as prevalent among persons with SMI compared to those without SMI.
The In SHAPE wellness program is designed to improve the physical health of people with serious mental illness. Organizations will participate in a research study to advance understanding of how to better address the physical health needs of individuals with serious mental illness. The program aims to improve health, well-being and life span through a combination of fitness, nutrition, social inclusion and community engagement. United Services will implement the program in January 2015.
"We are excited to bring this innovative program to northeastern Connecticut," said Diane L. Manning, President/CEO of United Services. "We are committed to improving the health outcomes for our community through comprehensive behavioral and social service programs, and believe this new focus on physical health will have a positive impact on the people we serve."
In 2014, the National Institute of Mental Health funded Dr. Steve Bartels and Dartmouth College team to conduct a hands-on initiative to determine how to best implement evidence-based health promotion to decrease obesity and reduce cardiovascular risk for persons with mental illness. Half of the participating organizations selected for this study will receive training and individual technical assistance for 12 months, and half will receive training and implementation support by participating in a learning collaborative for 18 months, according to the National Council.
As a participating organization, United Services will receive: training in the In SHAPE Program; a personal trainer certification reimbursement for one designated Health Mentor; implementation support through expert technical assistance, and ongoing weekly Health Mentor supervision; and an iPad to assist the Health Mentor in tracking participant progress and program outcomes.