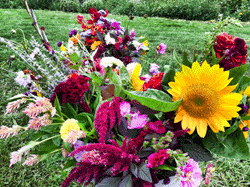 Pomfret Center, CT – Lapsley Orchard is set to host its 11th annual Sunflowers for Kids event on Sunday, September 6 from 10 a.m. to 3 p.m.  The orchard's end-of-summer bounty of sunflowers and wildflowers will be harvested and sold in bunches, or available for guests to pick their own, with 100% of the proceeds donated to children's treatment and supportive programs at the United Services Center for Autism.
Along with the flowers, the event features free hay rides (starting at noon) and pick your own apples. The event will also feature balloon animals and face painting for some additional family fun.
This is the fourth year that proceeds will specifically benefit the Center for Autism, which United Services opened in July of 2012 in response to the significant unmet need for autism services in eastern Connecticut.
The Center's offerings include comprehensive assessments and gold-standard clinical therapy for people of all ages with Autism Spectrum Disorders, complemented by supportive programs.  These "wrap-around" support programs include critical social skills training and social thinking groups, tutoring help, vocational training and recreational opportunities for children and adults with autism, as well as classroom consultations and training and support groups for parents, grandparents and siblings.
For more information about Sunflowers for Kids or about the Center for Autism, call 860-774-2020 or visit the Center for Autism section of our website. You can also visit the Center's facebook page at www.facebook.com/CenterForAutism.