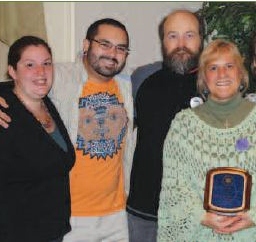 Following the tragic suicide of their son on his birthday in May of 2007, Grace Young and Jack Young Sr. of Putnam sought to turn their grief into a positive event that would honor Jack Jr.'s memory and love of music while helping to raise awareness of and support for mental health and suicide prevention.
With the resulting benefit concert, called "Particle Accelerator" in honor of a song penned by their son, the Youngs along with Eric and Sandy Gould, good friends of Jack Jr., have made tangible headway into breaking down the stigma of mental illness, promoting treatment and saving lives while supporting Mental Health First Aid.
Particle Accelerator, held at Putnam's Rotary Park in early June each year since 2007, has raised thousands of dollars to support United Services' Mental Health First Aid training and other mental health programs.  The concert is free to attend and has typically drawn a diverse array of favorite local and regional acts including Santa Mamba,  Adam Trudel, Kala Farnham and SEED.
The event also includes children's activities, art displays and the Wall of Angels, where concert-goers post photos and notes in memory of loved ones lost to suicide.  The Youngs and Goulds have kept the concert free to attend, so that everyone can enjoy a beautiful, music-filled day together and gain more awareness about mental health issues. Fundraising from the event comes from the generous sponsorship of local businesses as well as proceeds from a silent auction that is held throughout the day, and donations on the day of the event.
Based on community feedback and what we can infer from our own client statistics, the Young's and Gould's work on Particle Accelerator has made a significant impact in our communities by encouraging more people to come forward for treatment when they need it. Last year, a woman told our staff that her experience at Particle Accelerator spurred her to seek help for her depression and thoughts of suicide, saving her life.  There are numerous other such stories, and we believe the Youngs and Goulds to be community heroes, and some of our most special "United Supporters" – saving lives through music.