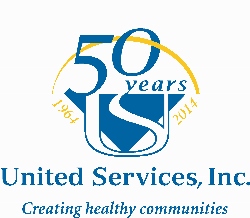 Dayville, CT –  United Services, Inc. held its annual Legislative Dinner on Thursday, January 28th to provide area members of the General Assembly with an overview of the needs of individuals and families struggling with behavioral health issues throughout the region. A recent Hartford Healthcare Community Needs Assessment recently identified Mental Health as the number one health priority in Eastern Connecticut.  However, since 2011 legislators have been unable to secure critical state bond assistance to allow United Services to enhance and expand services in the Willimantic region through the construction of a new Windham Regional Clinical Center.
The evening meeting, hosted at United Services Dayville Regional Clinical Center and attended by legislators and members of the United Services Board of Directors, identified key policy issues related to regional mental health and state funding disparities adversely impacting Northeast Connecticut, which were recently highlighted by a regional needs assessment submitted to the state Department of Mental Health and Addiction Services by the Eastern Regional Mental Health Board.
The report states:
"United Services has been waiting years for bond approval in order to begin construction on [its Windham Regional Clinical Center] that would replace its current building, which is grossly outdated and overcrowded. The agency and its staff are working hard to function as an effective team and promote a positive client experience, and are quite successful, despite the many limitations posed by the physical plant. "Sadly, this situation exemplifies the very real stigma attached to mental health," the report continues. "Untied Services' inability to gain bond approval for its new building sends a distressing message that our communities don't value mental health services and the people who need them, increasing feelings of shame and isolation."
Legislators were also provided with a recent appeal to the Governor submitted by the Eastern Regional Mental Health Board on behalf of United Services' request for state support.
"The residents of Northeastern Connecticut are long overdue for a significant investment in community mental health services," according to the letter, which also affirmed the findings of the Governor's Sandy Hook Advisory commission which repeatedly describes the state's behavioral health system as "fragmented and under-funded" and consistently calls for the state to "find ways to fund integrated models of care for both children and adults."
The existing USI Willimantic clinic space was constructed in the 1950s and includes space leased from Windham Hospital. The facility cannot accommodate the existing or expected growth in demand for services, nor accommodate co-located services for children and families, including services offered by the United Services Center for Autism.  Federal Health Care Reform and other state and federal government mandates also require that United Services begin offering integrated primary care for clients with Serious Mental Illness, who die, on average, 25 years earlier than the general population due to the additional challenges and complications their treatment requires.
United Services is currently involved in Connecticut's Behavioral Health Home initiative to provide and manage integrated primary health and behavioral health care and promote wellness initiatives for clients who have incurred high hospitalization costs, seeking to improve the health of individuals while saving state taxpayers significant dollars. United Services was also recently competitively selected to implement the InShape pilot project to promote healthy living among many of the clients it serves.
About United Services, Inc.
United Services, Inc. is a private, non-profit and comprehensive behavioral health center, creating healthy communities throughout northeast Connecticut for nearly 50 years through mental health and social service programs, chemical abuse treatment, domestic violence programs, and community behavioral health prevention and education programs.  With 12 locations and a staff of over 250, United Services operates more than 30 separate behavioral health programs, including the only domestic violence shelter for women and children in the region.  United Services is also the designated Youth Service Bureau in 10 towns within its service area, and its Center for Autism has recently brought specialized treatment and programs for children and adults with Autism Spectrum Disorder and their families to eastern Connecticut and surrounding areas.  United Services, Inc. is a 501c3 nonprofit organization.  To learn more, visit www.UnitedServicesCT.org.