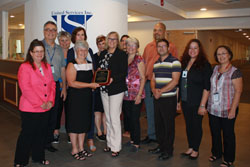 United Services Safety Committee was recently recognized by the Workers' Compensation Trust with their highest award, the Award of Excellence.
Carol Fronczek, VP of Loss Control Services for Workers' Compensation Trust, praised United Services for the agency's safety culture and caring for clients and employees.
Photographed are, front row from left: Pamela Hunter, Senior Loss control Consultant with Workers' Compensation Trust, Carol Fronczek, and United Services Safety Committee Members: Human Resources Compliance Manager Christine Raposa, Senior Secretary Roberta White, Employment Services Coordinator Chris Carreiro, Milner House Bilingual Coordinator Marisol Rodriguez, Director of Human Resources Cassie Mantoni. Back Row from left, CFO Robert DeVerna, Secretary Bonnia Richards, Front Office Manager Mary Silvestri, Young Adult Services Coordinator Kristine Seifert, Domestic Violence Program Coordinator Lauren Peretto, and Young Adult Services and Vocational Rehabilitation Coordinator Galliehue Blevins.