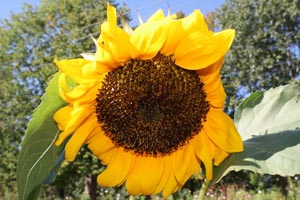 Sunflowers, Wildflowers sold to Benefit United Services Center for Autism at Sept. 6 event
Pomfret Center, CT – Families flocked to Lapsley Orchard Sunday for United Services' 11th annual Sunflowers for Kids, raising $1,300 for local children's autism programming.
100 percent of the proceeds from sales of sunflowers and wildflowers during the event were donated to United Services Center for Autism. Children of all ages also enjoyed face painting and balloon animals, as well as horse-drawn wagon rides and the orchard's bountiful pick-your-own offerings.
"United Services is grateful to John and Patty Wolchesky of Lapsley Orchard for their generous support of our programs," said Diane L. Manning, President and CEO of United Services. "Their partnership helps local families access much-needed services in our community, which many times are not covered or not fully covered by their insurance."
Lapsley Orchard has hosted the annual end-of-summer event for United Services children's programming for 11 years. This is the fourth year funds have been donated to the agency's Center for Autism, which United Services opened in July of 2012 in response to the significant unmet need for autism services in eastern Connecticut.
The Center's offerings include comprehensive assessments and gold-standard clinical therapy for people of all ages with Autism Spectrum Disorders, complemented by supportive programs. These "wrap-around" support programs include critical social skills training and social thinking groups, tutoring help, vocational training and recreational opportunities for children and adults with autism, as well as classroom consultations and training and support groups for parents, grandparents and siblings.
For more information about Sunflowers for Kids or about the Center for Autism, call 860-774-2020 or visit www.UnitedServicesCT.org or the Center's facebook page at www.facebook.com/CenterForAutism.
About United Services, Inc.
United Services, Inc. is a private, non-profit and comprehensive behavioral health center, creating healthy communities throughout northeast Connecticut for nearly 50 years through mental health and social service programs, chemical abuse treatment, domestic violence programs, and community behavioral health prevention and education programs. With 12 locations and a staff of over 250, United Services operates more than 30 separate behavioral health programs, including the only domestic violence shelter for women and children in the region.  United Services is also the designated Youth Service Bureau in 10 towns within its service area, and its Center for Autism has recently brought specialized treatment and programs for children and adults with Autism Spectrum Disorder and their families to eastern Connecticut and surrounding areas.  United Services, Inc. is a 501c3 nonprofit organization. To learn more, visit www.UnitedServicesCT.org.