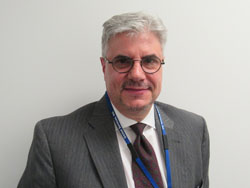 Dr. Alexander Miano brings added expertise in patient-centered healthcare
Dayville, CT – United Services, Inc., Northeast Connecticut's non-profit Community Behavioral Health and Wellness Center, is proud to announce the appointment of Dr. Alexander Miano as United Services' Medical Director as of May 15, 2017.
Dr. Miano previously served as Chief of Outpatient Behavioral Medicine with the Lawrence and Memorial Hospital Medical Group, and prior to that has served as Medical Director of the Emergency Department Psychiatric Services at UConn Medical Center, and also has experience working for the Connecticut Department of Mental Health and Addiction Services. Dr. Miano is a UConn undergrad, and completed medical school at Mount Sinai School of Medicine in New York City.  He completed his residency at John Dempsey Hospital and Yale.  He is Board Certified in Psychiatry and Neurology, and also has experience working with Child and Adolescent Psychiatry at Yale.
"We are thrilled to have a physician with Dr. Miano's experience and expertise in patient-centered health care join United Services in our mission of 'Creating Healthy Communities,'" said Diane L. Manning, President/CEO of United Services.  "This is a period of great innovation and evolution in behavioral health, and we are eager to have Dr. Miano's leadership as we expand our integrated health and wellness programs to help empower individuals to live the lives they were meant to lead."
With Dr. Miano assuming duties as Medical Director, long-time United Services Medical Director Dr. Jay Patel has also announced his upcoming retirement and transition to United Services Medical Director Emeritus, allowing him to provide support and guidance during the transition.
"Dr. Patel has spent over 35 years helping residents of Northeast Connecticut and shaping our regional behavioral health care system to recognize the inherent connection between body and mind," added Manning. "Although his leadership will be sorely missed, he can take great pride in knowing that Dr. Miano will continue his work to improve the quality of life for all we serve.  On behalf of the Board, Management, Staff and the thousands served by Dr. Patel, we thank him for his commitment to excellence and advocacy for improved resources to benefit our community."
Dr. Patel began his career in behavioral health in 1975 with his Residency in Psychiatry at Norwich Hospital. Four years later he joined United Services, providing psychiatric evaluations and supports for the children, families and individuals of Windham County, CT, a region of the state that has among the highest needs for community behavioral health care.  He also has a distinguished record of leadership in professional organizations such as local, state and national Psychiatric Associations, serving in executive capacities for organizations including the Windham County Medical Association and as a Delegate to the Connecticut State Medical Society.