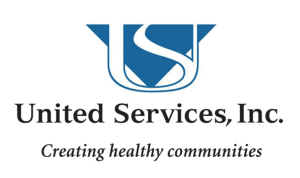 Local agency announces new board and recognizes community partners and long-serving staff helping to create healthy communities in northeastern Connecticut
United Services, Inc., Connecticut's largest private, nonprofit behavioral health center celebrated its 51st Anniversary Thursday with its Annual Dinner held at Wrights Mill Farm in Canterbury.
United Services President/CEO Diane L. Manning reflected on United Services eventful past year, which included addition of new programming in Jail Diversion and additional intensive family services in Reunification and Therapeutic Family Time. The agency also underwent its most significant change in program array in years with the addition of the Behavioral Health Home, an innovative program integrating primary care and wellness programming with behavioral health services.
"Celebrations such as our annual dinner remind us of the valuable roles played by our dedicated staff, as well as our vital community partners, in our efforts to save and improve the lives of individuals, families and children," said Manning.  "Each of us has a vital role to play in 'creating healthy communities' and we cannot continue the vital work we do without the dedicated support of local, state and federal government officials as well as health and human service providers, and all our community supporters."
United Services outpatient mental health caseload is now 248 percent of what it was in 2007, yet the agency's resources to meet this rising demand remain near the level of seven years ago, Manning said.
United Services elected new board leadership for the 2015-16 year as well as four new members Thursday.
United Services' new Board leadership includes treasurer John Deary, of Pomfret, and secretary Romeo Blackmar, of Pomfret.
New members elected to the United Services Board of Directors were John Fournier, of Willimantic; Preston and Idun Green, of Windham; Robert Young, of Dayville, and Todd Pearsall, of Woodstock.
Returning Board members include chairman Jeffrey Kramer, of Storrs; vice-chairman Linda Loretz of Ellington; Mary Bromm of Ashford; James Clark of Canterbury; Robert Leonard of Dayville; Dr. John Duers of Chaplin; Jeanne Nuhfer of Columbia; Terri Pearsall of Putnam; Cheryl Lewis of Putnam; Michael Turano of Canterbury; Anne Konczakowski of Windham; and Maximo Garcia of Willimantic.
United Services also honored retiring board members Attorney Sheldon Mossberg of Willimantic, who served on the board since 2007 and as chairman from 2012 to 2014 and Barbara Presson of Pomfret, who served on the board from 1999 to 2008 and 2009 to 2015.
In addition to the new and returning Board members, United Services President and CEO Diane Manning recognized three community partners whose support over the previous year made a particularly large impact in the programs United Services provides to northeast Connecticut.
Among those honored were:
Commander Ed Bergman and Sr. Vice Commander Sherry Wozniak of VFW Post #5446, who provide hot Thanksgiving meals for United Services residential program, Milner House, in Plainfield;
Alison Dvorak, a registered dietician and wellness consultant who has led "Cooking Matters" training for staff and has also completed wellness reviews for the agency's residential program.
Lynne McPhee and Karen Barbone, of Windham Hospital, who were instrumental in implementing the Windham Hospital Bi-lingual Diabetic Education Groups.
United Services staff were honored for their long-standing service to the organization and the residents of Connecticut's "Quiet Corner."  Celebrating 30 years was Vice President of Services Earl Henrichon. Celeste Chartier, program manager for intensive, home-based services, marked 25 years with the agency. Celebrating 20 years with the agency were Senior Secretary Jackie Wackerman, Secretary Carole Valone, and Adult Outpatient Services Program Manager Jo-Ann Maben. Marking 15 years with the agency were Case Manager Dean Leanna, Client Access Specialist Cheryl Vargas, Intensive Family Preservation Program Manager Sherry Bernier, Payroll Specialist Kathy LeClair, Medical Records Manager Sandy Pambuku, Case Manager Kerrie Sisavat, and Budget and Grants Analyst Julie Potvin. The agency also honored 16 employees who have been with the agency for 5 and 10 years.