UNITED SERVICES WELCOMES USDA ADMINISTRATOR HERNANDEZ TO DISCUSS PLANS FOR NEW WINDHAM REGION BEHAVIORAL HEALTH CLINIC
USDA LOAN OF $9.9 MILLION WILL HELP INITIATE THE $14 MILLION PROJECT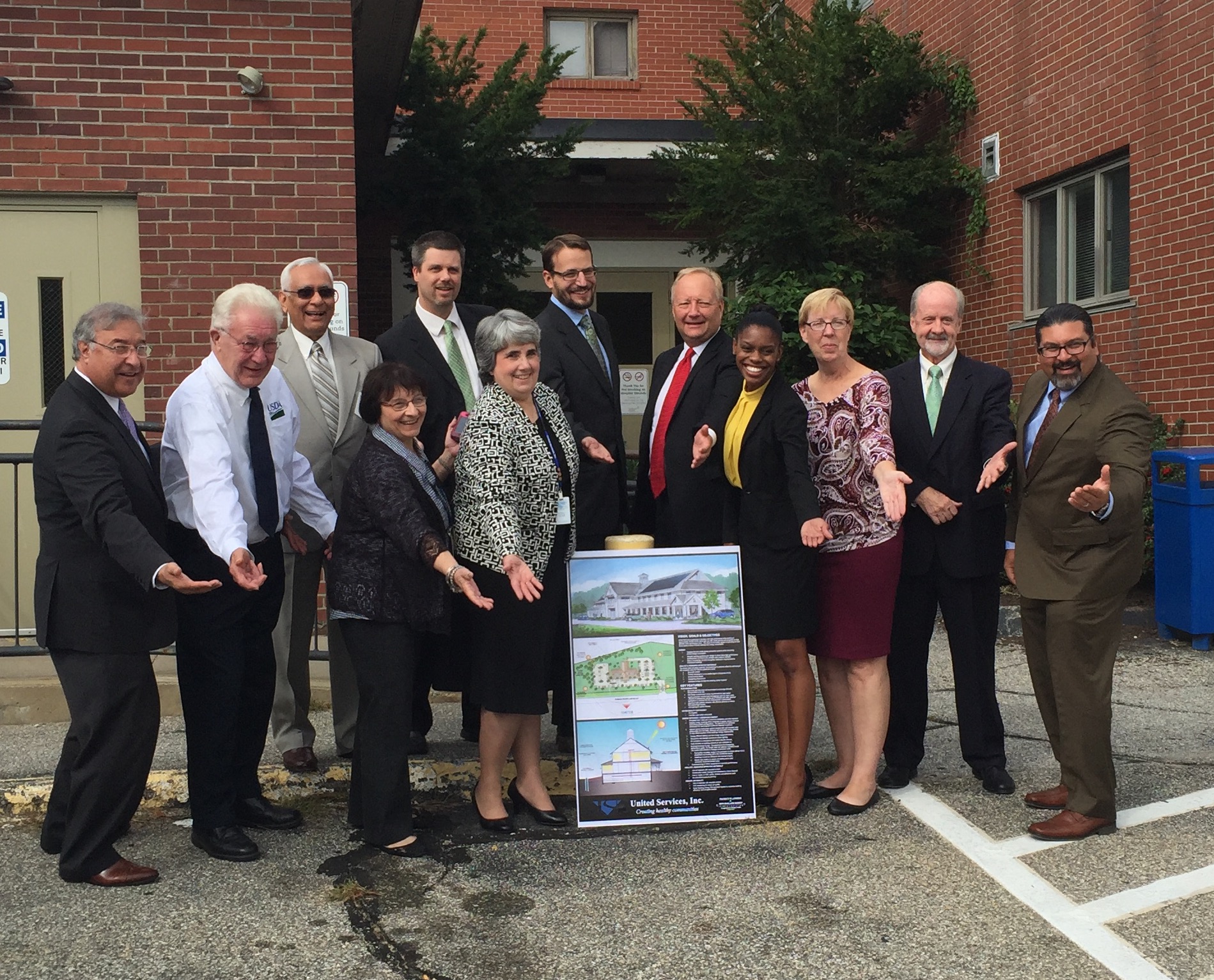 September 23, 2016 – Willimantic, CT –  United Services, Inc. today welcomed U.S. Department of Agriculture Administrator for Rural Housing Services Tony Hernandez for a tour of their existing overcrowded and antiquated Willimantic Adult Behavioral Health Clinic, and briefed the Administrator and other gathered supporters on their plans for an expanded Windham Regional Behavioral Health Center, to be located on the Windham town line in Mansfield, CT.  The center, which has been approved for up to $9.9 million in federal loans, will consolidate children, adult and family behavioral health services in one central location, accessible by public transportation, and allow United Services to address the region's growing need for behavioral health services.
State Senator Cathy Osten, Assistant President Pro Tempore, and Ayanti Grant, Representative for Congressman Joseph Courtney were on hand for the tour with the Administrator as United Services President & CEO Diane L. Manning briefed gathered officials on the pressing behavioral health needs of the region.  Since the start of the Great Recession, United Services' Outpatient Mental Health volume has more than doubled – and as of 2016 is now 256% the volume of outpatient mental health services provided in 2007, with no end in sight to the increased demand for services.
"We greatly appreciate the support of the U.S. Department of Agriculture and our Congressional Delegation in providing this federal loan to help address the pressing behavioral health needs of the children, adults and families of the Windham region," said Manning.  "While we still require the financial support of the State of Connecticut to complete this vital initiative, and were disappointed that the state Bond Commission has again chosen not to make the behavioral health needs of the Windham region a priority, access to this federal loan will allow us to initiate construction and begin to address needs that have been ignored by the state for far too long."
United Services, Inc., a non-profit health and human service organization providing behavioral health, domestic violence prevention, autism and other vital services for the Windham Region has an annual operating budget of just $17 million a year.   The agency has been seeking state support for the $14 million project since 2011, however the State of Connecticut  has thus far declined to offer its support to help address what is now the #1 health need of the region – mental health.
"United Services is a critical needs medical facility," said Administrator Tony Hernandez during the tour. "The USDA recognizes that without financing they can't serve the people who need the help they offer."
During the tour, Manning thanked the legislators who have supported United Services efforts to secure state Bond support, specifically Senator Cathy Osten who has championed United Services' efforts to gain funding and accompanied Administrator Hernandez on the tour of the outdated Willimantic clinical facility, and thanked Congressman Joe Courtney and the entire Congressional delegation for their support in securing the federal loan.
Additional supporters of efforts to help United Services obtain state assistance include Senator Tony Gugliemo, Representative Doug Dubitsky, Representative Greg Haddad, Representative Tim Ackert Representative Sam Belsito, Representative Kevin Ryan and Representative Mike Alberts.  United Services still seeks the support of other regional legislators who have yet to offer their support to efforts to secure state funding to help expand mental health services in the Windham region and address major regional mental health funding disparities that leave Northeast Connecticut with as little as 20% of the per capita resources provided to comparable state operated Local Mental Health Authorities.
"A growing number of experts now recognize that behavioral health care is as important, if not more important, in efforts to maintain healthy bodies and minds, yet public policy and support for mental wellness has yet to receive the same support as physical health," added Manning. "While we recognize that the State of Connecticut does not have endless resources, we cannot expect to address the crisis of opiate addiction and behavioral health needs in Northeast Connecticut with a fraction of the resources provided to other regions of the state.  Every state dollar invested in a community behavioral health can save taxpayers many times that amount in reduced emergency room and other social or human service expenses."
The existing United Services Willimantic clinic space was constructed in the 1950s and includes space leased from Windham Hospital. The facility cannot accommodate the existing or expected growth in demand for services, nor accommodate co-located services for children and families, including services offered by the United Services Center for Autism. Federal Health Care Reform and other government mandates also require that United Services begin offering integrated primary care for clients with Serious Mental Illness, who die, on average, 25 years earlier than the general population due to the additional challenges and complications their treatment requires.
About United Services, Inc.
United Services, Inc. is a private, non-profit and comprehensive behavioral health center, creating healthy communities throughout northeast Connecticut for over 50 years through mental health and social service programs, chemical abuse treatment, domestic violence programs, and community behavioral health prevention and education programs.  With 12 locations and a staff of over 250, United Services operates more than 30 separate behavioral health programs, including the only domestic violence shelter for women and children in the region.  United Services is also the designated Youth Service Bureau in 10 towns within its service area, and its Center for Autism has recently brought specialized treatment and programs for children and adults with Autism Spectrum Disorder and their families to eastern Connecticut and surrounding areas.  United Services, Inc. is a 501c3 nonprofit organization.  To learn more, visit www.UnitedServicesCT.org.
#####